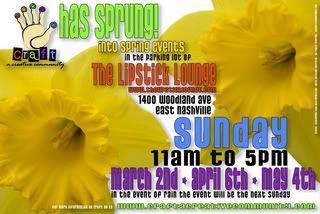 CRAFT: A Creative Community will hold its monthly "Sunday CRAFT Fair" on Sunday, April 6, from 11 am to 5 pm in the rear parking lot of the Lipstick Lounge in East Nashville. Local artisans will present and sell original hand-crafted items and artwork at affordable prices. In the advent of rain, the fair will be held the following Sunday, April 13, at the same time and location (11 am - 5 pm, 1400 Woodland Street).





For 2008, CRAFT has begun a new feature on its weblog, http://craftacreativecommunity. blogspot. com/.


Each month, featured artisans explain their craft in their own words, giving insight into what, how, and why they create. This month's featured artists, Salithia Buchanan of Crystal Garden, Sarah Tams of Route Thirteen, and Stephanie Powers of Higher Vibes, all create jewelry, each with a distinct style and perspective.





Crystal Garden's Salithia Buchanan began her journey as a wire jewelry artist in 2005. Her fluid, organic designs meld semi-precious stones, crystals and wire to create one-of-a-kind pieces that are at once ethereal and earthy. Buchanan finds inspiration for her wire-wrapped crystal and stone pieces everywhere -- organic shapes, tribal art, nature. Many times her inspiration comes from within, motivated in part by the realization that we are all made from the same earth -- the same elements and minerals -- that make up the stones, crystals, and metals she works with.





Sarah Tams, of Route Thirteen, sees jewelry making as the final destination along a long road of creativity that has led her through drawing, painting, printmaking, ceramics, and graphic design. Her graphic background is evident in the classic, clean-lined sterling silver, copper, and gold designs she forms, hammers, and molds by hand in her studio. Tams' work, simple and elegant, is versatile enough to be worn night or day.





Stephanie Powers is sometimes known as "The Rock Lady" – a nickname that has roots as early as her kindergarten years, when, as she remembers, she searched for eye-catching stones instead of playing games. Her love of stones and crystals, and her desire to help heal others and herself, led to her creation of Higher Vibe, an online store featuring jewelry handcrafted with healing stones.





In addition to jewelry, CRAFT's April event will showcase functional pottery, fiber art, clothing, and home furnishings, soaps and candles, and much more.


CRAFT's website, http://craftacreativecommunity. com/, provides more information about upcoming events and their ever-growing roster of participating artisans.





CRAFT is a network of artists and crafts people in the Middle Tennessee area who have banded together to show and sell their work in an atmosphere of fun and friendship, celebrating creativity. Drawing their operating ethic from the simple maxim "Life is too short for ugly stuff", the artisans of CRAFT: A Creative Community have established the monthly Sunday Fair in order to promote and support local craft, local artisans, and the spirit of community that nurtures such creativity. With its Sunday Fair, CRAFT aims to establish craft events that become part of the fabric of the community and that serve as a "home base" for artisans to share original, handcrafted things of beauty and functionality with the general public.





For additional information on the Sunday Fair, or on CRAFT: A Creative Community, please visit http://craftacreativecommunity. com/.